Little Giant Utility Pumps - Little Giant submersible pumps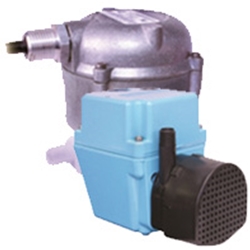 Little Giant Inline/ Submersible Utility Pumps
eSupply Depot offers the full line of Little Giant Inline and Submersible Industrial Utility pumps. Included in this category of pumps are the original Aluminum Casting, oil-filled Direct Drive submersible and inline pumps for use in water transfer, recirculation, water displays, air conditioners and multiple other applications. Also the Epoxy Encapsulated Direct Drive pumps are available in similar sizes and for similar applications and in particular water gardening. Other applications include pumps for Parts Washers, Tile Saw's, Machine Tool Lubricants, Carpet Cleaning Equipment, Drink dispenser, and Acid Pumps.
Included in this category of Little Giant Pumps are the Flex Vane "Pony Pump" Series which is a small Self Priming pump in both 115 Volt and 12Volt models.
Circulator Pumps for use in Solar heating applications and domestic hot water recirculation systems.
Little Giant 555203 365S 12VDC With 7' W/Clips (Replaces PP-12, PPS-12)

Non-Submersible, Self-Priming Stainless Steel Transfer Pump

This lightweight, self-priming, portable pump with stainless steel pump head can be used to transfer water to an RV, pump out boat bilges, pump out stock tanks, and in other applecations where water needs to be transferred. Intemittent duty is 15 minutes "ON" and 45 minutes "OFF".

Self priming for instant delivery or de-watering up to 6'
Non-submersible stainless steel or plated brass pump body
Rugged metallic handle for easy portability
Dual threaded intake and discharge with both 3/4" male garden hose thread and 3/8" FNPT
Model 360K includes pump, hose, strainer and suction adapter
Pump only models available with separate kit options

Little Giant 500203 1-A 115V 60 Hz, 170 GPH Small Submersible - 6' Power Cord (Replacement pump for 500000)(500965)(500914)

C

Permanently Lubricated Pumps

Small submersible oil-filled pump with epoxy coated cast aluminum housing. For commercial, industrial and home applications including statuary fountains, water displays, air conditioners, machine tool coolants, and many other applications where liquid must be transferred or recirculated. This compact 170 GPH pump features a 1/4" MNPT discharge, 7' shut-off head capability, and screened inlet. This pump is not recommended for aquariums, swimming pools and fuel oil transfer.

170 GPH @ 1 ft.
Operates submersed.
6' cord
Epoxy-coated aluminum housing
Bottom inlet has snap-off screen for easy cleaning.
1/4" MNPT outlet, with 90° elbow accessory, accepts 1/2" I.D. tubing.




Little Giant 500286 1-AT 115 Volt 10'Cord

The 1-A Series is a permanently lubricated pump utilized for commercial, industrial, and home applications, including statuary fountains, water displays, air conditioner condensate removal, machine tool coolants, and many other applications in which liquid must be transferred or recirculated. Using this pump for aquariums, swimming pools, and fuel oil transfer is not recommended.

Featured Downloads

Little Giant 500386 1-42AT 115V 60Hz 170 GPH - Dual Purpose Pump, 10' Power Cord

PUMP DISCONTINUED REPLACED BY 501203

Permanently Lubricated Pumps

Small submersible oil-filled pump with epoxy coated cast aluminum housing. For commercial, industrial and home applications including statuary fountains, water displays, air conditioners, machine tool coolants, and many other applications where liquid must be transferred or recirculated. This compact 170 GPH pump features a 1/4" MNPT discharge, 7' shut-off head capability, and screened inlet. This pump is not recommended for aquariums, swimming pools and fuel oil transfer.

170 GPH @ 1 ft.
Operates submersed.
10' cord
Epoxy-coated aluminum housing
Bottom inlet has snap-off screen for easy cleaning.
1/4" MNPT outlet, with 90° elbow accessory, accepts 1/2" I.D. tubing.

Little Giant 501003 1, 115V 60Hz 205 GPH - Small Submersible, 6' Power Cord

C

Permanently Lubricated Pumps

For commercial, industrial, and home use worldwide where liquid must be transferred or recirculated. Applications include aquariums, swimming pools, water displays, ice makers, air conditioners, boat bailing, fuel oil transfer, circulating water for welding and pipe threading machines, pumping mild chemicals such as soap solutions, acids, plating solutions, and fertilizers.

205 GPH @ 1 ft.
Operates submersed.
6' cord
Epoxy-coated aluminum housing
Bottom inlet has snap-off screen for easy cleaning.
1/4" MNPT outlet, with 90° elbow accessory, accepts 1/2" I.D. tubing.

Little Giant 501016 1-Y 230V 50/60Hz 12' Cord

Permanently Lubricated Pumps

For commercial, industrial, and home use worldwide where liquid must be transferred or recirculated. Applications include aquariums, swimming pools, water displays, ice makers, air conditioners, boat bailing, fuel oil transfer, circulating water for welding and pipe threading machines, pumping mild chemicals such as soap solutions, acids, plating solutions and fertilizers.

205 GPH (10 LPM) @ 1 ft.
Operates submersed.
230V 50/60 Hz
12' cord, no plug
Epoxy-coated aluminum housing
Bottom inlet has snap-off screen for easy cleaning.
1/4" MNPT outlet, with 90° elbow accessory, accepts 1/2" I.D. tubing.

Little Giant 501020 1-YS 115V 60Hz(Replaces 501025, 501966)

Submersible Use

Applications

Submersible for pumping unheated metal parts cleaning solvent which is UL classified as PJQU

1/150 hp oil-filled motor

Cast aluminum housing

Nylon volute

Fluoroelastomer (FKM) shaft seal

Polyethylene screen

1/2" (12.7 mm) conduit fitting

cCSAus listed (501020 and 501025)

Little Giant 501036 1-Ys 230v Parts Washer Pump

Specialty Pumps

Item Number: 501036

Model Number: 1-YS

Submersible pump for use with stoddard solvent and deodorized kerosene submerged parts washer applications only. For pumping unheated metal parts cleaning solvent which is UL classified as PJQU, as described in the Gas and Oil Equipment Directory. These refined petroleum distillates are free from tendency to heat spontaneously; they have a closed cup flash point not lower than 100 degrees F.

Features:

1/2" MNPT Master Builders Conduit Fitting
1/150 HP Oil filled motor, 230V
205 GPH Maximum flow rate @ 1'
Intermittent Liquid Temp. to 120F
Cast aluminum housing
1/4" MNPT Discharge
Nylon volute
Nylon Impeller
Viton® double lip Shaft Seal
Polyethlene Screen
Thermal overload protection

Little Giant 501086 1-T 115V 60 Hz 10', 205 GPH(Replaces 500286)

Small Submersible Pumps

For commercial, industrial, and home use worldwide where liquid must be transferred or recirculated. Applications include aquariums, swimming pools, water displays, ice makers, air conditioners, boat bailing, fuel oil transfer, circulating water for welding and pipe threading machines, pumping mild chemicals such as soap solutions, acids, plating solutions and fertilizers.

205 GPH @ 1 ft.
Operates submersed.
10' cord
Epoxy-coated aluminum housing
Bottom inlet has snap-off screen for easy cleaning.
1/4" MNPT outlet, with 90° elbow accessory, accepts 1/2" I.D. tubing.
Thermally protected.




Little Giant 501203 1-42 115V 60Hz 205 GPH - Dual Purpose Pump, 6' Power Cord (501985)

C

Dual purpose oil-filled pump that may be used totally submersed or in-line (fed with pipe or hose). For commercial, industrial, and home applications including statuary fountains, water displays, air conditioners, machine tool coolants, and many other applications where liquid must be transferred or recirculated. This compact 205 GPH pump features a 1/4" MNPT discharge and 7.4' shut-off head capability.

205 GPH @ 1 ft.
Operates submersed or in-line
6' cord
Has both 1/2" MNPT and 1/2" FNPT inlet
1/4" MNPT outlet accepts 1/2" I.D. tubing.
Thermally protected.

Little Giant 501500 127 Volt pump with 6' Cord

Oil-filled, Direct Drive

Submersible Use

Applications

Water transfer or recirculation, and water displays

1/150 hp oil-filled, direct drive motor

Designed for continuous duty, submersible use only

Epoxy coated cast aluminum housing and cover

Polypropylene volute and elbow

Nitrile shaft seal

Little Giant 502020 2E-NYS 115V 60Hz 300 GPH Parts Washer Pump

Specialty Pumps

Designed for submerged use only, this pump is intended for use in UL-listed parts cleaners. For pumping unheated metal parts cleaning solvent which is UL classified as PJQU, as described in the Gas and Oil Equipment Directory. These refined petroleum distillates are free from tendency to heat spontaneously; they have a closed cup flash point not lower than 100 degrees F.

1/2" MNPT conduit fitting
1/40 HP oil-filled motor
300 GPH @ 1' maximum flow rate
Intermittent liquid temp. to 120F
Cast aluminum housing
Hooded intake
1/4" MNPT discharge
Nylon volute & impeller
Viton® shaft seal
Nylon screen
Thermal overload protection




Little Giant 502103 2E-N 115V 60Hz 6', 300 GPH (502920)

Permanently Lubricated Pumps
Small submersible oil-filled pump with epoxy coated cast aluminum housing. For commercial, industrial and home applications including statuary fountains, water displays, air conditioners, machine tool coolants, and many other applications where liquid must be transferred or recirculated. This compact 300 GPH pump features a 1/4" MNPT discharge, 11.8' shut-off head capability, and screened inlet.
300 GPH @ 1 ft.

Operates submersed.

6' cord

Epoxy-coated aluminum housing

1/4" MNPT outlet accepts 1/2" I.D. tubing.

Thermally protected.

Hooded inlet ideal for statuary

snap-off screen for easy cleaning.


Featured Downloads









Little Giant 502203 2E-38N 115V 60Hz 1/40 HP, 300 GPH - Dual Purpose Pump, 6' Power Cord (502922)

Catalog Number: 502203

Model Number: 2E-38N

1/40 HP, 300 GPH - Dual Purpose Pump, 6' Power Cord

Little Giant Dual Purpose PumpsDual Purpose Pumps
Dual purpose oil-filled pump that may be used totally submersed or in-line (fed with pipe or hose). For commercial, industrial and home applications including statuary fountains, water displays, air conditioners, machine tool coolants, and many other applications where liquid must be transferred or recirculated. This compact 300 GPH pump features a 1/4" MNPT discharge and 11.8' shut-off head capability. It is not recommended to use the 2E series in aquariums, swimming pools and fuel oil transfer applications.
300 GPH @ 1 ft.

Operates submersed or in-line

6' cord

Epoxy-coated aluminum housing

3/8" FNPT inlet with snap off screen for easy cleaning

1/4" MNPT outlet accepts 1/2" I.D. tubing.

Thermally protected.

Featured Downloads








Little Giant 502216 2E-38NY 230V 50/60Hz 1/40 HP, 300 GPH, 230V - Dual Purpose Pump, 12' Power Cord (Replaces 502116)

Permanently Lubricated Pumps

Dual purpose oil-filled pump that may be used totally submersed or in-line (fed with pipe or hose). For commercial, industrial and home applications including statuary fountains, water displays, air conditioners, machine tool coolants, and many other applications where liquid must be transferred or recirculated. This compact 300 GPH pump features a 1/4" MNPT discharge and 11.8' shut-off head capability. It is not recommended to use the 2E series in aquariums, swimming pools and fuel oil transfer applications.

300 GPH (20 LPM) @ 1 ft.

Operates submersed or in-line

230V 50/60 Hz

12' cord, no plug

Epoxy-coated aluminum housing

3/8" FNPT inlet with snap off screen for easy cleaning

1/4" MNPT outlet accepts 1/2" I.D. tubing.

Thermally protected.

Featured Downloads

Little Giant 502286 2E-38NT 115V 60Hz 300 GPH - Dual Purpose Pump, 10' Power Cord (Replaces 502186)

CPermanently Lubricated Pumps

Dual purpose oil-filled pump that may be used totally submersed or in-line (fed with pipe or hose). For commercial, industrial and home applications including statuary fountains, water displays, air conditioners, machine tool coolants, and many other applications where liquid must be transferred or recirculated. This compact 300 GPH pump features a 1/4" MNPT discharge and 11.8' shut-off head capability. It is not recommended to use the 2E series in aquariums, swimming pools and fuel oil transfer applications.

300 GPH @ 1 ft.

Operates submersed or in-line

10' cord

Epoxy-coated aluminum housing

3/8" FNPT inlet with snap off screen for easy cleaning

1/4" MNPT outlet accepts 1/2" I.D. tubing.

Thermally protected.

Little Giant 502303 2E-NDVR 115V 60Hz, 300 GPH (502919)

Specialty Pumps

Double-Viton® seal acid pump. For use with weak acids and chemicals, fruit juice, cleaning solvent, anti-freeze and fluids with a pH factor of 6 to 7. Can be used submerged when pumping water or machine oils and should only be used in-line (not submerged) when pumping weak acids. Nylon volute with a 3/8" FNPT intake (nylon adapter included for 1/2" hose intake) and 1/4" MNPT discharge. Stainless steel plate and motor shaft with inner and outer Viton seals. Thermally protected motor.

1/40 HP Oil Filled Motor

300 GPH @ 1' Maximum flow rate

Intermittent Liquid Temp. to 120F

Cast aluminum housing

3/8" FNPT Intake (adaptor included for 1/2" barbed intake)

1/4" MNPT Discharge

Epoxy Coated Cast Aluminum Housing

Epoxy Coated Cast Aluminum Cover

Nylon Volute & Impeller

Inner and outer Viton® Shaft Seals

Can be used submerged when pumping water or machine oils and should only be used in-line (not submerged) when pumping weak acids